By Madhava Smullen
The ISKCON temple in Nyali in Mombasa, Kenya has recently completed the second phase of its construction – an apartment building to help care for the congregation and cultivate their spiritual lives.
The four-storey building includes ten apartments. Four of them are nearly 2,000 square feet each with three bedrooms; four are 1,600 square feet with two bedrooms; and two of them are 800 square feet each with one bedroom. All apartments also have their own kitchens.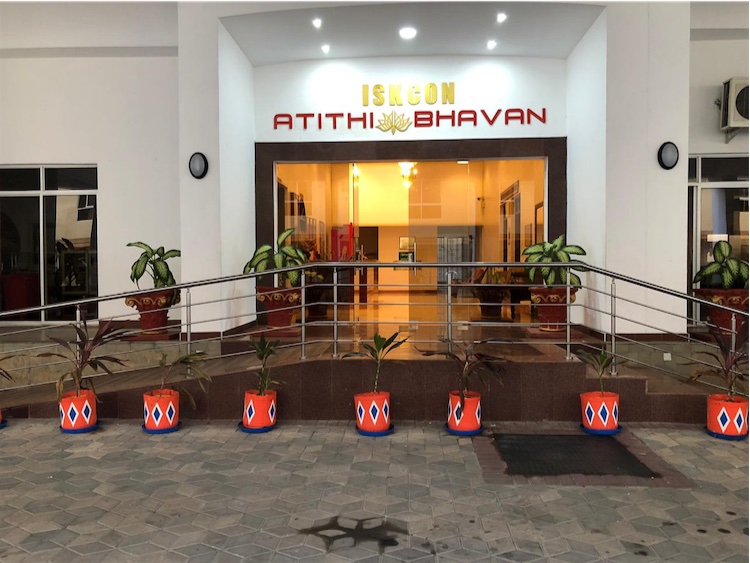 In addition a huge, opulent "Bhaktivedanta Banquet Hall" has been constructed, which can accommodate five hundred people for dining and seven hundred people standing. The multipurpose hall serves the congregation by facilitating their weddings, birthdays, and anniversaries.
The new apartments are rented out to people who are inclined towards the process of Krishna consciousness for a nominal price – an equivalent apartment outside would be far more expensive.
"Nine families were completely new when they came to stay," says temple president Anand Das. "Now they are chanting regularly, doing service, attending the morning program and following the four regulative principles. In about one year, they will likely take initiation. We also hope they will then bring other family and friends to Krishna consciousness, and slowly we can increase the congregation."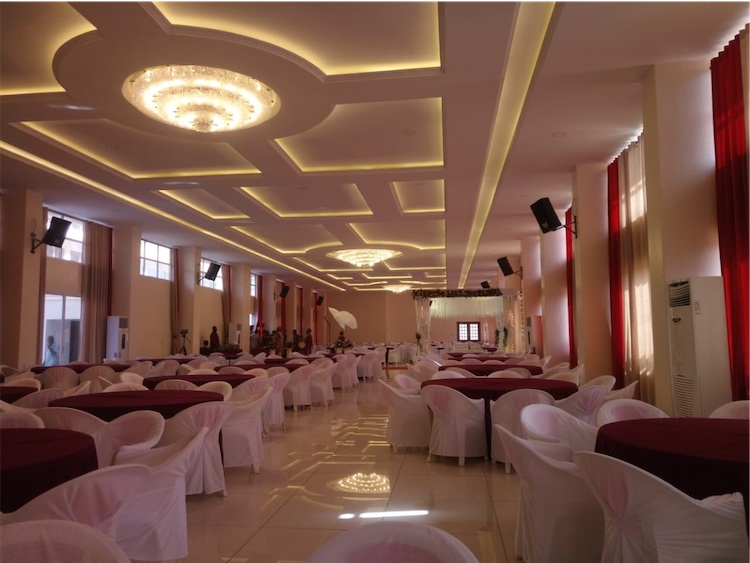 The apartments make attending the morning program and other temple functions much easier, as residents avoid peak time traffic. They also eliminate security concerns around going out in the early morning hours.
While the apartments at the Nyali temple accommodate mainly members of the Hindu congregation, Anand Das next plans to build similarly affordable apartments to for local African families.
These apartments will be located on a just-purchased plot of land opposite a second ISKCON temple ten kilometers away in the main town of Ganjoni.
The Ganjoni temple is ISKCON's original Mombasa temple, purchased in 1972 by Navayogendra Swami.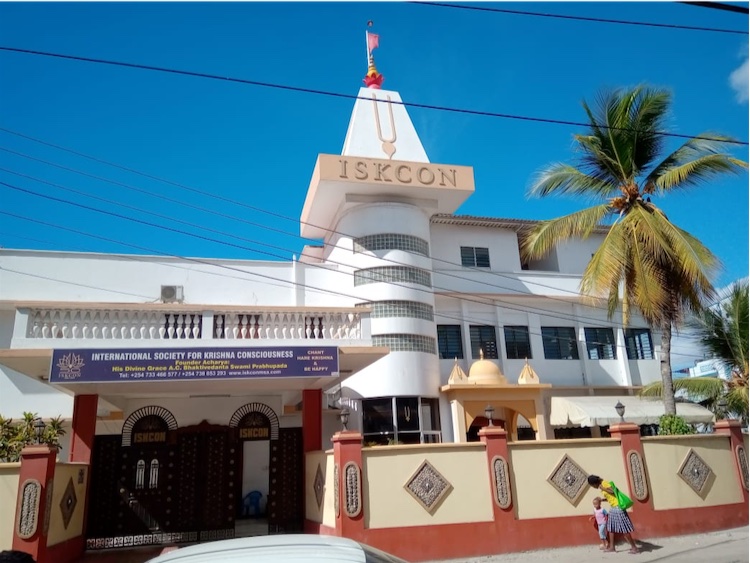 In more recent years, since the building was old, devotees wanted to create a more opulent home for their Deities of Sri Sri Rukmini Dwarkadish. So in 2011, they opened the new temple in the coastal area of Nyali.
Dubbed "New Dwarikadham," the temple is located in a peaceful, green area free from noise and pollution and within five minutes' walking distance from the beach.
The two-acre gated complex includes a 26-room guesthouse, a Govinda's restaurant, a second multipurpose hall, a gift shop carrying spiritual literature and paraphernalia, a shop specializing in Indian sweets and savories, lush flower gardens, and a spectacular colored water fountain, the first of its kind in Kenya.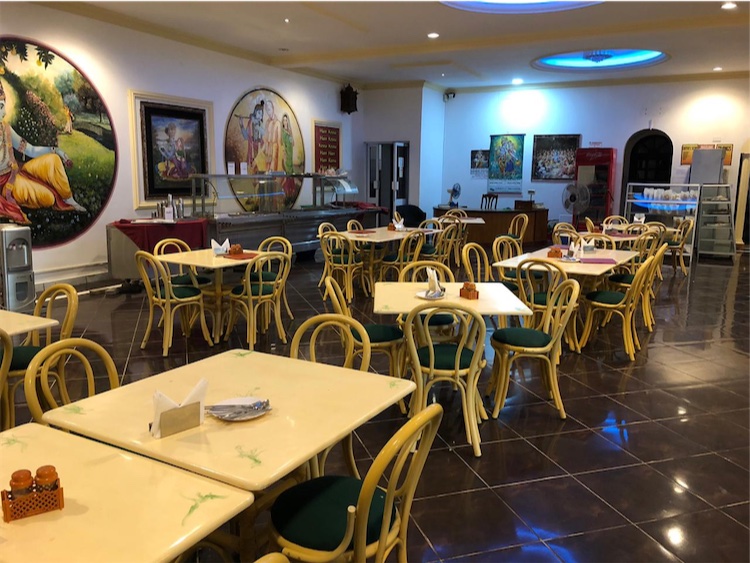 The temple itself is an attractive blend of architectural styles from the Jagannath Puri and ISKCON Juhu temples, and is open from all sides, with decorative arches in place of doors. Inside, it can accommodate about 500 people, and features a dual altar with Deities of Rukmini Dwarkadish and Sita Rama Lakshman Hanuman.
Recently the second phase of construction was completed, with the Bhaktivedanta Banquet Hall and apartments for congregation.
Because the Nyali temple is a large facility, Mombasa devotees celebrate all major Vaishnava festivals there. They also do Food For Life once a week, serving nearly 700 people each time.
The original Ganjoni temple remains active, however, having been reopened in 2017 after a total refurbishment costing fifty million Kenyan shillings. The old building was transformed into a beautiful Vedic temple with tilak logos adorning its towers and its own nine-room guesthouse and Govinda's restaurant, which serve working professionals in town.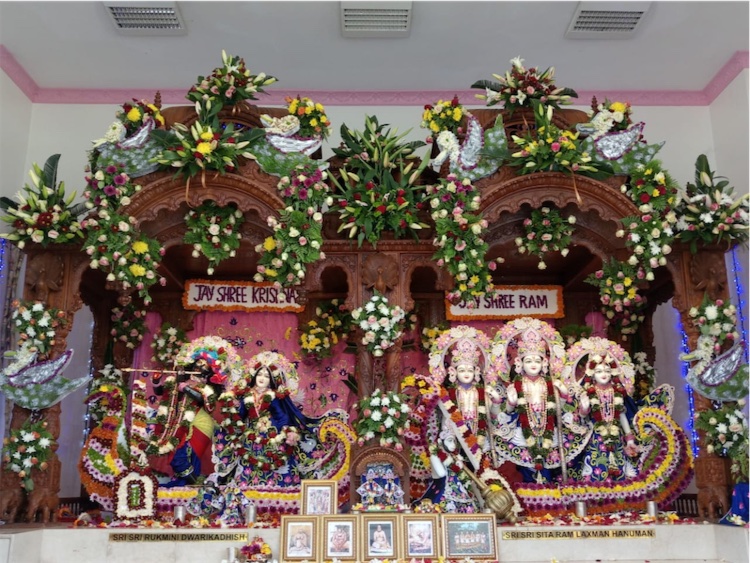 Since Ganjoni is also home to Lord Jagannath, Baladeva and Subhadra Deities, Rathayatra is observed there with a parade through town.
Once a month, around forty African students from local universities attend the Ganjoni temple for class and prasadam meals.
"As for the weekly classic Hare Krishna 'love feast,' we have one on Saturdays in Nyali, and a second on Sundays in Ganjoni," Anand Das says.