The Bhaktivedanta Library – Fulfilling the Desire of Srila Prabhupada
BY: PREMANJANA DAS (Pranjal Joshi)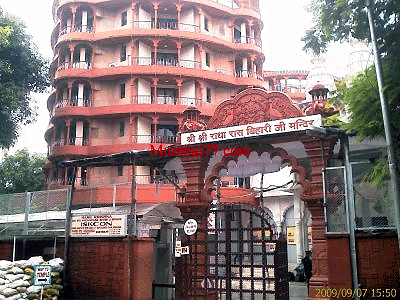 Jun 07, 2012 — INDIA (SUN) —
The Bhaktivedanta Library is a unique subject that inspired me to write.
I have been to many ISKCON temples along with many holy places all over India; but ISKCON Mumbai (Shri Radha Rasa Bihari Ji) stands to be the only place where I discovered this unique and special library that has a magnanimous collection of books by various authors from all over the world.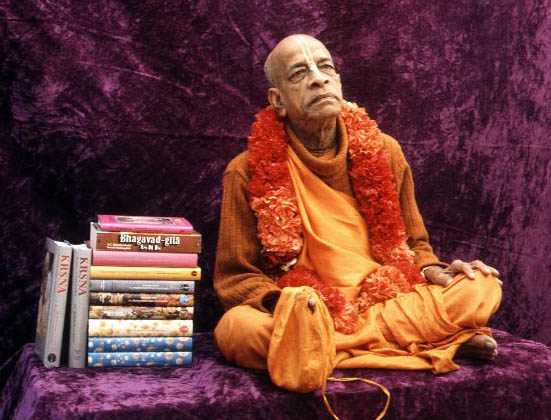 The Bhaktivedanta library is a veritable treasure-house of knowledge. What makes me write this article was a small advertisement pamphlet of The Bhaktivedanta Library which I got from the take-away box of library.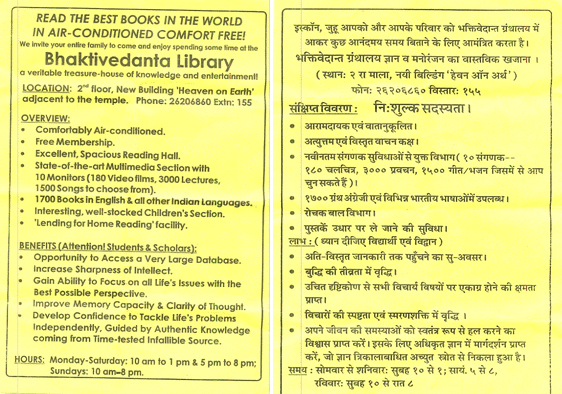 This library invites the public to read wonderful books in an air-conditioned comfort zone free of charge (except for the small amount that is to be paid incase you borrow a book- lend for money facility given by the library).
This library which was inaugurated in January 2007 is located on the second floor, New Building, 'Heaven on earth' complex at the ISKCON temple at Juhu. Upon having an overview, I found that the library had more than 1800 books in English and other Indian languages. The library also caters- 'lending for home reading' facility.
Another remarkable aspect of this library is the way it caters children with many colouring books, comics and animations on Lord Krishna. The state-of-the-art multimedia section has 10 monitors with18 video films, 3000 lectures, 1500 songs to choose from. Children are very fond of this library; I always see them around- making noise and enjoying themselves. A little girl was spraying 'room freshener' everywhere in the library to her own amusement. I always spend some time in this library whenever I go to Juhu temple and try to read and write as much as possible.
Students and scholars are benefitted at large with the use of the wide database provided by the library which helps to sharpen their intellect. They gain ability to focus on all the issues of life with the best possible perspective. It is by 'good-reading' that we can develop confidence to tackle problems in life independently, guided by authentic knowledge coming from time-tested infallible source i.e. Lord Krishna and his pure-devotees. It also helps to improve the capacity of memory and clarity of thoughts. This library also has a 'take away box" which allows visitors to take away photos, pictures, CDs and pamphlets free of cost.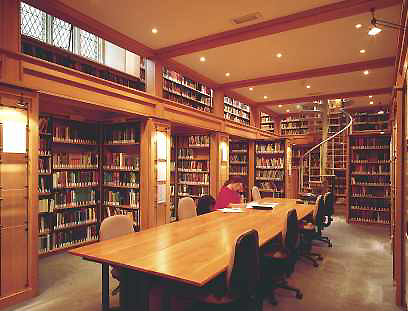 His Grace Rasapurusha Das who is a regular visitor to this library says that there is no other library better than this. When there is annual conference of ISKCON GBC (Governing Body Commission) in Mumbai, this library becomes a conference hall for the governing members of the commission. One delegate remarked that he has never seen such a library in any of the ISKCON centers in the world.
There is a pin-drop silence in this library adds Rasa Purusha Das. The credit for this well maintained library goes to Shri Anantha Prabhu Das who is the librarian here. Well-illuminated facilities and ceiling makes reading more pleasurable. This library is kept absolutely nice and immaculately clean. Chairs are comfortable and cushioned; both the tables and chairs are decorated beautifully. All the 'book-sections' are well labeled so that the reader does not have to waste his time in searching for the right book. This library has many book shelves storing books in Hindi, Kannada, Bengali, Marathi, Gujarati, English, Oriya, Telugu, Tamil and Malayalam.
All the walls have nicely framed large pictures of His Divine Grace A.C. Bhaktivedanta Swami Prabhupāda (ISKCON Founder Acharya) and those of the past-times of Lord Krishna. This library is a non- profit unit which is being operated to fulfill the desires of His Divine Grace Srila Prabhupāda to spread the Vedic wisdom in the whole world.
Akshay (MBBS student, Pune) – "Rare books which are difficult to find else-where are found here. I find books from all sampradayas, for e.g. one can also find the Bible here. The segmentation of the book-sections has been done by language, name of author and subject matter.
Along with books, the library has an excellent collection of periodicals, papers, articles and photos. The most important thing is that the librarian (Anantha Prabhu Das) is very co-operative and polite. He never makes one feel indifferent... When I come here for some time I feel that I have been coming here for a long time. This library has audio lectures, CDs and computers too. The books here are very expensive; I cannot afford to have them so I just read them here free of cost.
I got in contact with ISKCON through the Bhaktivriksha programme in Chennai. Now I continue with my devotional activities in Pune also. If one wants one can deposit some fees and also the cost of the book and borrow the book from the library, and the deposited money is returned on returning the book.
The librarian is very tense these days as many books from this library have been stolen in the recent past."
Shambhu (worker from Kolkata) - "My village is in West Bengal. I get one day off on Sunday. I come to this library on Sunday morning, it opens at 10 AM. I read these books to acquire knowledge and search the absolute truth. I love reading books available here."
Anantha Prabhu Das (Library in-charge): "After my 13 years of service in The Bhaktivedanta Institute, Juhu, I was in Mira road for 10 years for attending temple programmes and satsang .I was working in The Bhaktivedanta Hospital with Dr. Patel in anti-abortion campaign guided by His Grace Devamrita Prabhu. One day in the afternoon after lecture, His Holiness Gopal Krishna Goswami Maharaj called me from his car, put his hands on my shoulders and asked me to take up some responsibility as I had been there for a long time, Maharaj had known me from 1983". I requested Maharaj to guide me. Maharaj then asked me to meet His Grace Braj Hari Prabhu.
Next day I met Braja Hari Prabhu in Juhu mandir who put me in touch with His Grace Pundarik Govind Prabhu who had just completed library furniture arrangements and told me that I had to serve in this library as I had done in The Bhaktivedanta Institute library earlier and now I had to make a system for the new library. Then I started going everyday to Juhu, in January 2007. From 300 books and 60 videos the library has now grown to 1800 books and 9000 videos, lectures and songs in the multimedia section."
"Numbers of readers have steadily increased; 'lending for home reading' section has 78 regular borrowers. The library organizes community services, especially on Saturdays, of different groups like senior citizens. Senior devotees address them in such programmes. The library also holds books on vegetarian cooking, art, songs, Sanskrit and also travel books to holy places apart from the spiritual books."
Timings of library: 
Monday to Saturday: 10 AM to 1 PM and 5 PM to 8 PM
Sundays: 10 AM to 8 PM
For further information:
Please contact--
Ananthe Prabhu das- (022) 2620 6860 (Extension 155)
The Bhaktivedanta Library
Second floor, New building, Heaven on Earth Complex
ISKCON Mumbai
Shri Radha Rasa Bihari Ji Mandir
Hare Krishna Land, Juhu
Mumbai
For your comments and feedback on this article, please write to:
Shri Premanjana das (Pranjal Joshi): pranjal280@gmail.com