Story of Lord Krishna - SRIMAD BHAGAVATA by Krsna-Dwaipayana Vyasa



Putana's Deliverance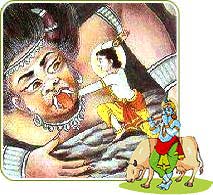 By Kamsa's orders, the fierce demoness Putana went about killing children in towns, villages and pasture lands. Dressing herself just like a beautiful woman, she entered the house of mother Yashoda. Krishna showed the nature of a small baby and closed His eyes, as if to avoid the face of Putana. On that very spot, the fiercely dangerous Putana took Krishna on her lap and pushed her breast into His mouth. The nipple of her breast was smeared with a dangerous, immediately effective poison, but the Supreme Personality of Godhead, Krishna, becoming very angry at her, took hold of her breast, squeezed it very hard with both hands, and sucked out both the poison and her life. She screamed forth,"Please leave me, leave me! Suck my breast no longer!" Her eyes bulged out. At last she fell dead like a great mountain. Without fear, the child Krishna was playing on the upper portion of Putana's breast, and when the gopis saw the child's wonderful activities, they immediately came forward with great jubilation and picked Him up.

Because of Krishna's having sucked the breast of the Putana, when Krishna killed her she was immediately freed of all material contamination. Her sinful reactions automatically vanished, and therefore when her gigantic body was being burnt, the smoke emanating from her body was fragrant like aguru incense.

Putana was always hankering for the blood of human children, and with that desire she came to kill Krishna; but because she offered her breast to the Lord, she attained the greatest achievement.