Lalita Sasti : Appearance Day of Lalita Sakhi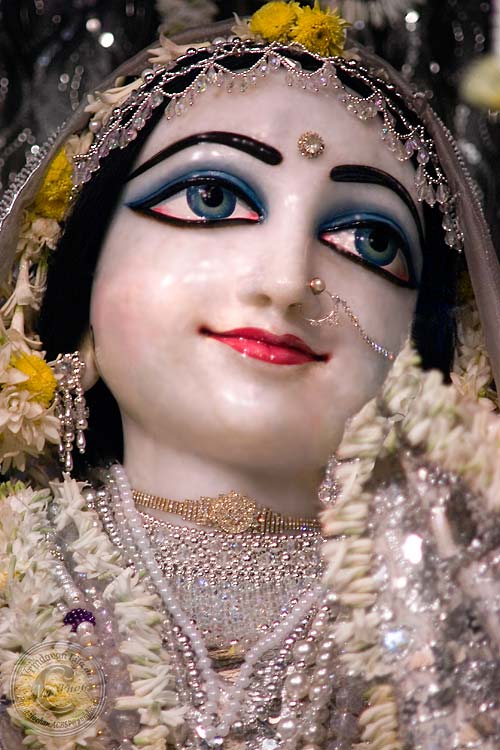 Lalita is one of the principal eight sakhis of Srimati Radharani in Vrindavan. It means "playful and charming". Srimati Radharani is also called as Lalita". She is a very dear friend of Radha-Krsna. Lalita-sakhi and her assistants incarnate from time to time in the material realm to propogate the topmost mood of serving Radha-Krsna, namely to become a maid-servant of Srimati Radharani.
Rupa manjari (Rupa Goswami) is the assistant and follower of Lalita-sakhi; thus all who consider themselves as Rupanuga bhaktas (followers of Rupa Goswami) are ultimately the servants of lalita-devi and thus through the media of the parampara should always be longing to engage in the service of her lotus feet. When that day comes that we are able to please her, she will engage us in the intimate loving service of Sri Sri radha-Krsna according to our heart's desire.

Lalita-sakhi incarnated as Svarupa Damodara in the pastimes of Lord Gauranga Mahaprabhu and acted as his personal secretary. "Sri Svarupa Damodara was the personification of ecstatic love, fully cognizant of the highest transcendental mellows in relationship with Lord Krsna. He directly represented Sri Gauranga Mahaprabhu as His second expansion. In fact, no one could approach or present anything to Gauranga Mahaprabhu without his sanction. If someone wrote a book or composed verses and songs and wanted to recite them before Sri Caitanya Mahaprabhu, Svarupa Damodara would first examine them and then correctly present them. Only then would Sri Caitanya Mahaprabhu agree to listen."
Information of Lalita Devi :
| | |
| --- | --- |
| Mother's Name: | Saradi |
| Father's Name: | Visoka |
| Husband's Name: | Bhairava |
| Complexion: | Like gorochana, a type of yellow pigment |
| Cloth: | Sikhi-piccha, like peacock feathers |
| Grove: | Her kunja to the North of Radha-kunda, named Lalitanandada, is colored tadid i,e, like lightening, with many ruby-studded features. |
| Service: | Her special seva is serving tambula, betel-nuts. |
| Age: | In the Nikunja-lila, her eternal age is 14 years, 8 months, 27 days; she is the eldest sakhi. |
| Mood: | Her bhava is khandita, or a jealous heroine who chastises her beloved. This pure mood is never manifest in relation to herself, however but only when there is a delay in the meeting of the Divine Couple. |
| Temperament: | Vama-prakhara, contrary and hot-tempered to enhance the pastimes of Radha & Krsna. |
| Favourite Instrument: | Vina |
| Favourite Tune: | Raga bhairava-kalingada |
| Maidservant: | Her chief assistant is Sri Rupa-manjari. |
| Girlfriends: | Her 8 closest sakhis are Ratna-prabha, Rati-kala, Subhadra, Bhadra-rekhika, Sumukhi, Dhanishtha, Kala-hamsi, Kalapini. |
Characteristics of Lalita Devi :
(1) The leader of all the sakhis of Srimati Radharani

(2) Very magnanimous like her father

(3) The instigator of most pastimes

(4) Always displays contrariness to Krsna's suggestions

(5) Frequently becomes angry and speaks outrageously insolent retorts to increase the intensity of the loving affairs between Radha & Krsna.

(6) Brilliant in composing and understanding riddles

(7) Unparalleled in fashioning things with flowers including awnings, dancing arenas, umbrellas, couches, bowers

(8) Expert in performing magic tricks and juggling.