By Madhava Smullen 
The recent Julan Yatra for the presiding Deities of ISKCON's New Navadvipa Mandir in Kiev, Ukraine drew somewhere between 1,000 and 1,200 devotes from all over Ukraine, Russia and Europe. 
The Swing Festival, which ran from August 11th to 16th, also celebrated the Brahmotsava, or installation anniversary, of Sri Sri Radha Madhava and the first installed Deities in Kiev, Sri Sri Goura Nitai. 
"The main goal of the festival was to encourage devotees in devotional service to Lord Krishna in His Deity form," says participant Vraja Hari Das. 
In attendance were a whole host of ISKCON gurus, Prabhupada disciples and other senior Vaishnavas such as Radhanath Swami, Niranjana Swami, Bhakti Vijnana Goswami, Nitai Chaitanya Swami, Adikarta Prabhu, Trai Prabhu, and Madhavananda Prabhu.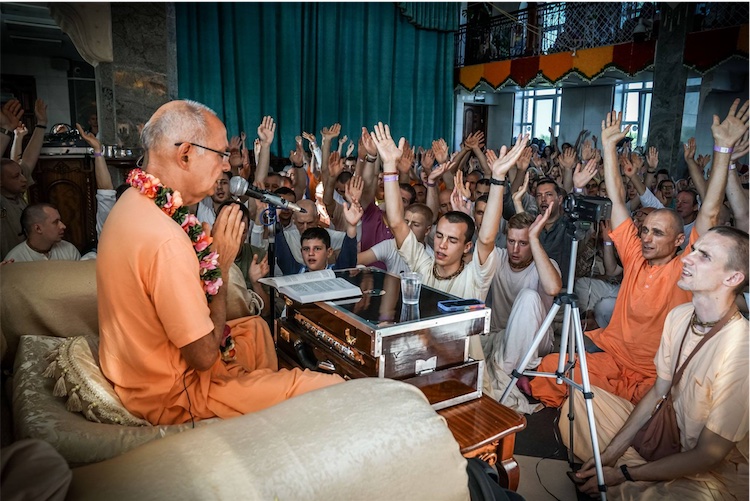 During the festival, many of these devotees gave the morning Srimad-Bhagavatam class on topics from the qualifications of a devotee to Varnashrama Dharma. 
In addition, Radhanath Swami gave a series of evening lectures, beginning on the first day by talking about the Panihati festival with Narottama Das Thakur. On other days, he delved into the importance of the Julan, or Swing Festival, and talked about how to put Krishna in the center of one's life.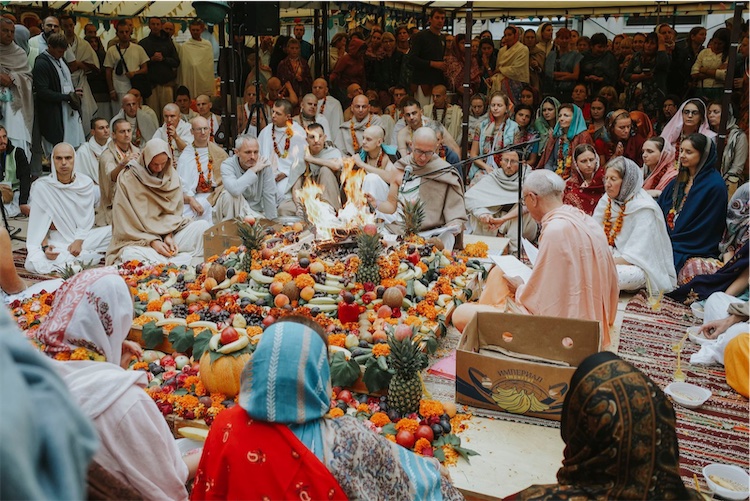 Devotees also, of course, swung Their Lordships on a beautifully decorated Julan, accompanied by ecstatic kirtan with Niranjana Swami, Radhanath Swami, and leading local kirtaniyas.
Another highlight was the Puspa Abhishek, or flower bathing, celebration for Sri Sri Radha Madhava, which was conducted on the sacred day of Balarama Purnima.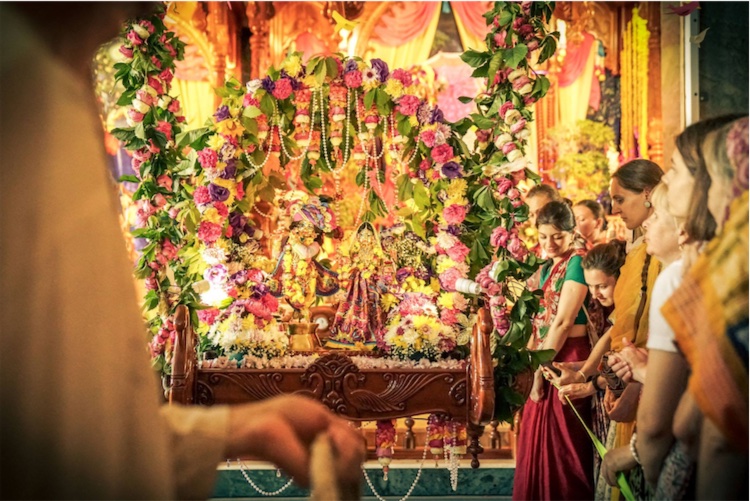 "Around two to three hundred kilograms of flowers were used, including 10,000 roses," says Vraja Hari. "First, the Deities were showered with flower petals on the altar. Then, the flowers were brought into the temple room, where all the devotees enjoyed lovingly throwing flower petals onto each other while a huge kirtan went on." 
In the late evenings, inspiring dramas about Krishna's pastimes were performed by local devotees.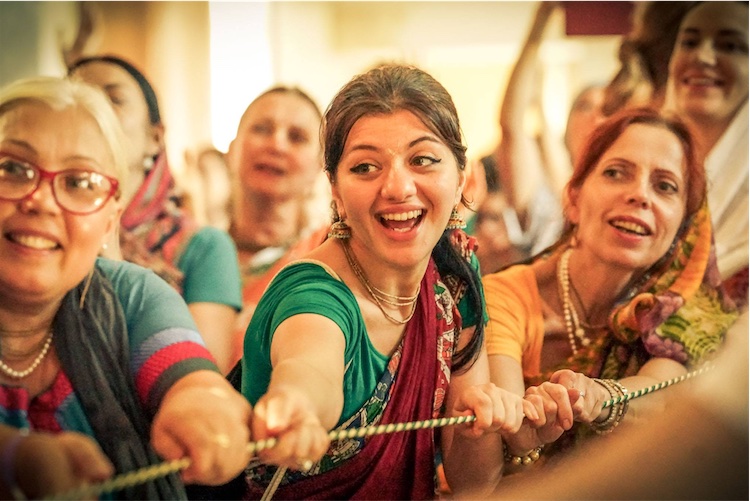 Two large pandals (tents) were erected for the convenience of the devotees during the festival, for lectures and children's programs. The whole event was brodcast live on Youtube for those who couldn't attend in person.
Meanwhile, a special outdoor kitchen was built to cook sumptuous prasadam over an open fire twice daily. Devotees were served subji, rice, dahl, pakoras, hot drinks and halava, as well as laddu sweets after each swing celebration. On two of the days, they also all received some of the 108 dishes cooked for the Deities.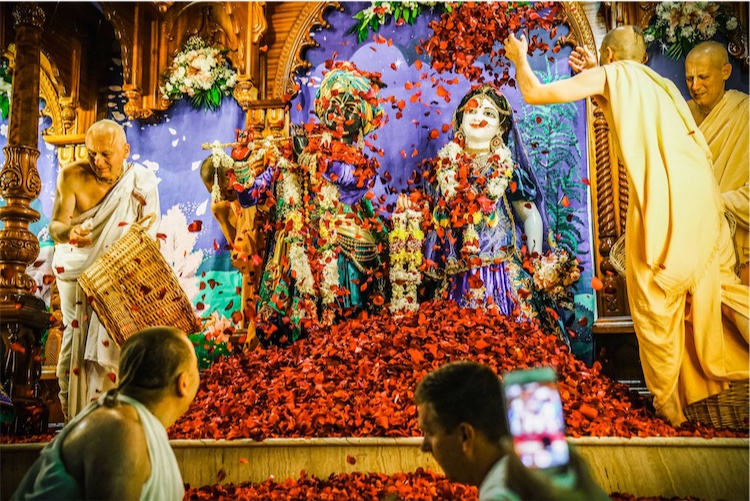 Hospitality was a key focus of the event, with devotees placed at different hotels outside of the venue, and some staying at homes of local Vaishnavas to deepen relationships. All devotees were greeted at the registration booths when they arrived and offered assistance. 
"This festival was special because we received the association of so many exalted Vaishnavas," says Vraja Hari. "What's more, over sixty devotees received their first and second initiation during the event."
Source: https://iskconnews.org/julan-yatra-festival-in-kiev-ukraine-draws-over-1000-devotees,7066/