++++++++++++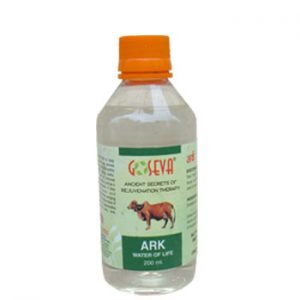 (1) Go-Ark : Distilled Cow Urine
Ayurveda recommends GO-ARK to help lower cholesterol levels and reduce body fat. A gift of cow urine is its ability to balance the three doshas (mucous, bile, and air).
++++++++++++++++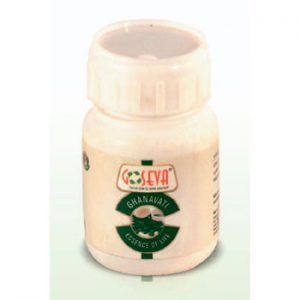 (3) Ghanvati : Cow Urine Tablets
Ayurveda recommends Ghanavati as a liver cleanser, blood purifier, and as digestive aid. Since cow urine is in the mode of goodness, it will therefore invigorate the physical, mental, and moral senses. Ghanavati is also beneficial in all kind of diseases and useful for heart diseases, high blood pressure, and effective in mental illnesses.
These ayurghee is the good for any diesis of brain, eyes and nose. Like allergy of dust or sinus migrant or effective in more than 90 elements.
(5) Cow Ghee
This ghee has been manufactured from indigenous cows only. This is manufactured by traditional Hand churned method.
Pure cow ghee helps in anti-ageing, raises the beauty and purifies the blood. The diseases like paralysis and Asthma are also controlled by Desi-ghee.
(6) Angarakshak : Body Soap – Antibacterial soap
Angarakshak is an anti-bacterial soap is cow dung soap made from using traditional ingredients like Multani mitti, tilli tel and Neem ras. Angarakshak soap brightens the skin, makes it fresh and glowing.
This soap saves us from leprosy, cirrhosis and other skin diseases. It is also effective in protecting us from radiation, pollution and infection. Angarakshak soap is skin friendly, eco friendly and harmless soap.
It is free from chemicals, meat and sodium Sulphate which is used for making foam.
(7) Pachanamrit : Digestive Aid for Stomach problems :
Panchamrit is an Ayurvedic medicine prescribed for treating constipation, gas, indigestion and ulcers. Our product panchamrit is made from pure cow breed Gir cow dung and urine. An Ayurvedic go (cow) product purifies the blood and It is beneficial in curing following problems:
@ Piles @ Acidity @ Stomach problems @ Nervousness @Sleeplessness @ High blood pressure @ Rheumatism @ Loss of appetite @ Headaches due to indigestion @ Kills worms. Its also kills the hazardous effects of pesticides and fertilizers.
(8) Dantamanjanam : Tooth Powder
Ayurvedic dantamanjan (as tooth powder ) strengthens your teeth and gums. It prevents your teeth from mouth infections. Ayurvedic dantmanjan cures oral diseases like tooth worms and decaying.
Ayurvedic dantamanjan is made from vedic traditional ayurvedic method. Cow urine abstracts in the dantamanjan makes gums and teeth strong. Camphor and mint gives fresh breath. The neem content in the dantmanjan fights with germs and kills worms present in the intestine.
(9) Shudh Dhoop : Pure Incense, air purifier
Shudh dhoop purifies the complete atmosphere of your home. The scent of shudh dhoop makes entire surrounding pure and pleasing.
Our Shudh dhoop is entirely pure and no chemicals are used in making it. The money earned by the sale of dhoop is used for cow maintenance and protection.
(10) Kesh Nikhar : Hair Tonic (Shampoo)
Kesh Nikhar is an Anti dandruff shampoo and the hair tonic made from Vedic Ayurvedic process. Kesh Nikhar is an eco friendly and environment friendly shampoo. This is purely natural shampoo made from natural herbs and it has no side effects. No chemical or harmful ingredients are used to in making Kesh Nikhar shampoo.Kesh Nikhar gives hair the best hair wash and it prevents hair loss.
(11) Angamardanam Tailam : Pain Reliever Oil
ANGAMARDANAM TAILAM renders quick relief to muscle and joint pain. It is completely Ayurvedic cow product prepared by traditional way.
Made from effective Ayurvedic ingredients. ANGAMARDANAM TAILAM is skin friendly, non toxic and harm free product.
This oil cures following problems :
@ Best cure back pain @ Arthritis, hip, joint @ Sports injuries @ Muscular aches @ Restless leg syndrome @ Sciatica disorders
(12) Tejasvini : Face Powder (Face Wash)
Tejasvini face (wash) powder is extremely effective in solving acne, pimples and skin diseases. It brightens the skin and makes face glowing. It eliminates dark spots, wrinkles and dandruff.
The Tejasvini face wash is not made from any chemicals; it is completely Ayurvedic face pack made from Gir cow's Panchagavya and important herbs.
The ingredients like neem used in making this face pack helps to cure skin diseases and Multani mitti along with sandal wood powder helps skin shine.
@ acne @ pimples @ skin diseases @ heat rash. Makes the face effulgent. Wrinkles and spots are destroyed and will also cure dandruff.
(14) Marham : Ointment
We make herbal Ointment from Ayurvedic herbs and Cow dung. Herbal Ointment cures skin diseases, ringworm, eczema, psoriasis and infected wounds.

It has no side effects and it is best for elimination of crack in the skin of heels. It cures cracked heels or rough feet. It gives good results when used along with Cow urine (gomutra ) of Great Breed of Cow 'the Gir Cow'.
(16) Cow dung cakes (Kanda) – Best for Yagya
Cow dung is used for performing sacrifices and it is considered best for havan on different occasions. Cow dung is applied on skin to cure skin diseases like Psoriasis and Kushtharog.
Mata Yashoda had applied cow dung on Krishna when Putana had attacked. It saves us from Ill-will and negative energy. Cow dung is also used for bath for purification of body.
With our tradition of making cow dung from holy breed gir cow grown in perfect environment; it gives purity and goodness to dung as we provide health food to cows.
The use of cow dung during sacrifices (Yagya) is sacred and it not only completes the sacrifice but also pleases the Lord. Cow dung is also used as fertilizer in India. It is crushed to powder and applied to Tulasi and various flower plants. It kills the hazardous effects of pesticides and other fertilizers.
(17) Dishwashing Powder
We make natural eco- friendly dish washing powder for which leaves your dishes sparkling clean. Our environmental friendly dish washing power gets rid of oily and tough stains. It is soft and gentle to hands as no harmful chemicals are being used to prepare it.
(18) Go-Mutra
GOMUTRA: FILTERED COW URINE

Gomutra (Filtered Cow Urine) is used in Indian culture for purification of a body. People spread Gomutra in their offices, houses, on their body during auspicious occasions.
Gomutra attracts divine consciousness which brings us under sattva guna thus it helps in spiritual healing.
Mata yashoda poured Gomutra on Krishna to save him from all ill-will. It is a giver of mental and physical strength. It is used while performing sacrifices (Yagya) and used as pesticide in garden or farm. It is beneficial as a fertilizer also.
Gomutra is good remedy for skin diseases therefore it is used while bath. The Indian Gir cow's urine has unique ability to kill negative energy and protects from all danger. The Gomutra by special Gir cow is very important during sacrifices. We provide good food and environment to Gir cows due to its importance.